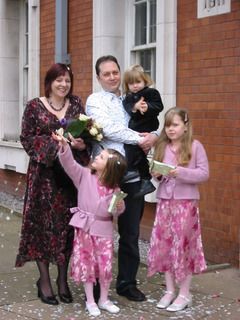 Five years ago today Woody and I got married. We've been together for 18 years now,but only decided to get married five years ago. I was 17 weeks pregnant with Sid, our only guests were my best friend, Heather and her now hubby,Gary. We got married in the Town Hall, then went to a local pub for cheese pie and chips. Just perfect for us.
Today Woody and I celebrated by having lunch in a lovely little pub near to the cemetery. We popped in to see Florence first and lit her candle.
After lunch we shopped for a little gift for Florence's newest cousin, Alex James who was born healthy yesterday.
Quite a nice day really, I'm now sat here drinking some lovely herbal tea my friend bought for me, and I might even have a nap before dinner.
The sun was even shining today, and the sky was beautiful.
A good day.