The Secret Garden Meeting October
2:21 pm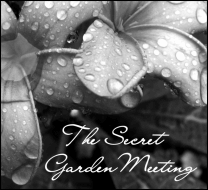 So this meeting we would like to talk about where you are. Where are you at in your grief. Has it been years or just weeks since you lost your baby. How are you feeling. How do you hope you will feel in the future. Have you found any peace at all?
It's been fifteen weeks and two days since Florence was born. I'm starting to think of the time in months now, so that would be just over three months. I find it impossible really to imagine her at three months old. I can guess how she'd look based on how the older children were at three months,but to me Florence is an eternal newborn.
I think three months is probably enough time that most people around me are starting to forget, well no, not forget,but for her not to be at the forefront of their minds.
I still think of her constantly.
I am coping, and slowly slowly adjusting to this new world. There are bad dark times, and brighter easier times,but the pain is still raw and it hurts like hell.
I know there is still a long way to go,but I also know I'm not falling apart and that's all I can do for now.
Peace comes at odd moments and for odd reasons.
This week peace came after meeting with one of the doctors who treated Florence.I realised that spending that time with the doctor talking about Florence, even though we were talking about her death reminded me of her realness. The doctor knew my daughter and spoke of her in such a tender way.Very few people met Florence, and it's hard to explain to everyone just how beautiful and real she was. So when the doctor said she was a "perfect little girl" my heart filled with gratitude, because I knew she meant it sincerely and she knew how real Florence was.
I'm not sure what I hope for in the future. The future is a scary thought. All I can really focus on is now, this moment, and if I do that every moment, every day then the future will come, and will just be.